Back to blog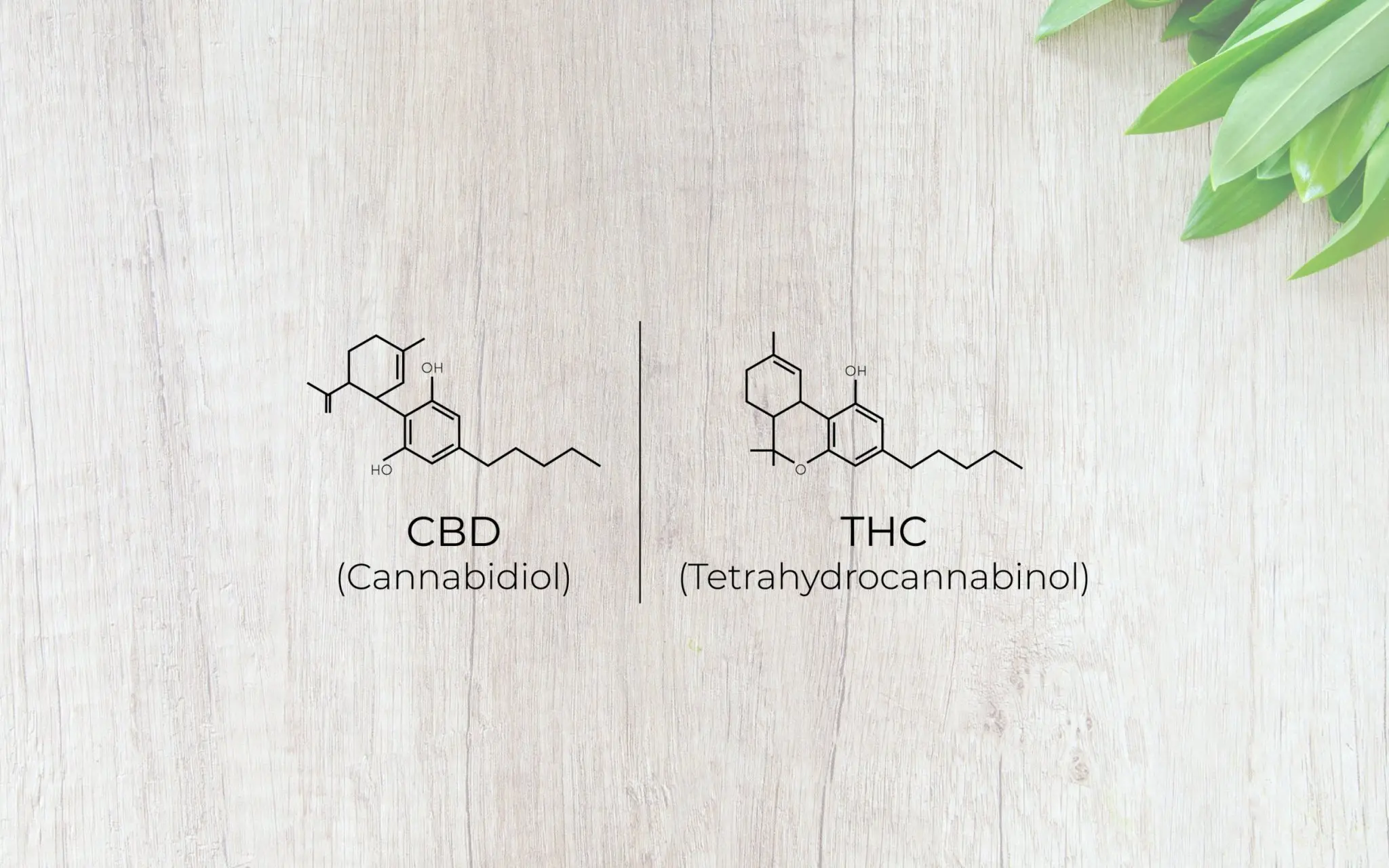 To confidently consult with your eligible patients regarding a prescription for medical cannabis, it's important to understand the difference between the main cannabinoid compounds, cannabidiol (CBD) and tetrahydrocannabinol (THC).
Over the years, more than 120 cannabinoids have been isolated from the cannabis plant, with the two most recognised phytocannabinoids (pCB) being cannabidiol (CBD) and Δ9-tetrahydrocannabinol (Δ9-THC). [1]
CBD and THC are the most common cannabinoids, which are produced in varying quantities in the medical cannabis products that are available for prescription in Australia.
Medical cannabis products can contain varying ratios of cannabidiol and tetrahydrocannabinol. The three main forms of products include:
Isolate: Products containing either isolated CBD or isolated THC
Full-spectrum: Products containing a range of cannabis constituents and various concentrations of cannabinoids, including both CBD and THC
Broad-spectrum: Products containing a range of cannabinoids and other constituents but with no THC. [2]
If you're a medical practitioner seeking more information about medical cannabis before prescribing a suitable product to your eligible patient, keep reading to learn about the difference between CBD and THC.
What is CBD?
CBD, or cannabidiol, is one of the most studied cannabinoids due to its potential therapeutic effects. [3]
Unlike THC, CBD has no psychoactive properties, meaning it does not cause intoxicating or euphoric effects for the patient.
CBD does not stimulate CB1 receptors, however results from recent studies suggest that it is an allosteric modulator and has the ability to potentiate the effects of THC. [4]
Over the years, evidence has emerged surrounding the efficacy of cannabidiol as a potential therapy for a number of conditions including chronic pain. [5]
CBD's efficacy for certain rare forms of childhood epilepsy has also been revealed, with regulatory approval granted by the Australian government for a 100 mg/mL oral formulation (Epidyolex). [6]
With more research needed into the efficacy of CBD, most medical cannabis products in Australia are still deemed unregistered medicines and should be prescribed as a second-line treatment for eligible patients. The most common product forms prescribed for CBD medicine in Australia is oil, liquid capsules and oro-mucosal spray.
What is THC?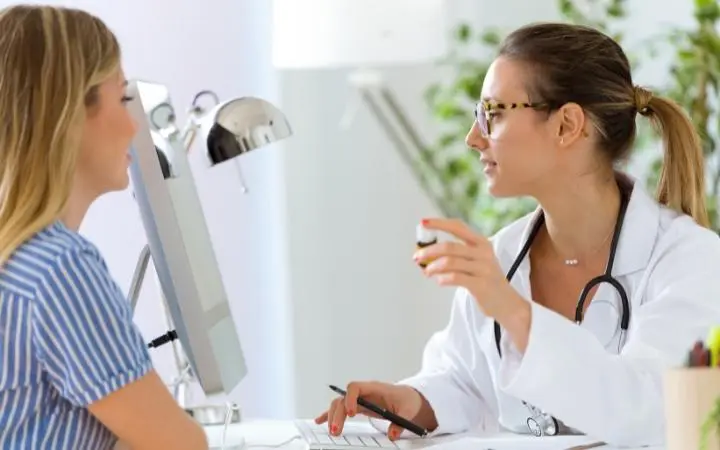 THC, otherwise known as Delta 9-tetrahydrocannabinol or Δ9-tetrahydrocannabinol, is the primary psychoactive constituent of the cannabis plant.
Responsible for the main intoxicating effects cannabis produces, THC interacts with both CB1 and CB2 receptors, which can help regulate various parts of the human body.
Research into cannabis medicine has revealed THC's ability to affect certain pharmacological actions such as psychoactive, analgesic, anti-inflammatory, anti-oxidant, antipruritic, bronchodilatory, anti-spasmodic and muscle-relaxant activities. [7]
With the ability to bind to CB1 receptors in the endocannabinoid system, this particular cannabinoid has the potential to mediate psychoactive properties such as mood or consciousness, memory processing and motor control. [8]
Evidence also suggests that THC has possible efficacy in treating the symptoms of chronic pain, chemotherapy-induced nausea and vomiting, plus spasticity in multiple sclerosis. [9] However, more research is needed to understand the potential benefits associated with medical cannabis.
THC-based medicinal cannabis products are most commonly produced in combination with CBD, in varying ratios to harness the entourage effect.
The most commonly prescribed product form for THC medicine is oil and flower (dried herb).
How cannabinoids interact with the endocannabinoid system
Research into the main cannabinoids found in the cannabis plant, like CBD and THC, led to the discovery of the endocannabinoid system.
The endocannabinoid system is a biological system found in the human body that consists of endogenous cannabinoids, cannabinoid receptors and enzymes which are responsible for the degradation of endocannabinoids. [10]
There are two types of endocannabinoid receptors which cannabinoids can interact with:
CB1 receptors: These receptors are present in several regions of the brain, peripheral nerve terminals and some extra-neural sites. They are responsible for mediating many of the psychoactive effects of cannabinoids. [11]
CB2 receptors: These receptors are found in the cells and tissues of the immune system and in a few neurones. They are commonly associated with inflammation in the central nervous system as well as synaptic function. [12]
Both cannabidiol and tetrahydrocannabinol can interact with the CB1 and CB2 receptors. These receptors target certain areas of the body and affect certain functions such as pain, mood, sleep and memory. [13] THC can bind to both CB1 and CB2 receptors, whereas CBD doesn't bind to these receptors and instead interacts with them. [14]
In the diagram below, you can see which parts of the human body the CB1 and CB2 receptors target.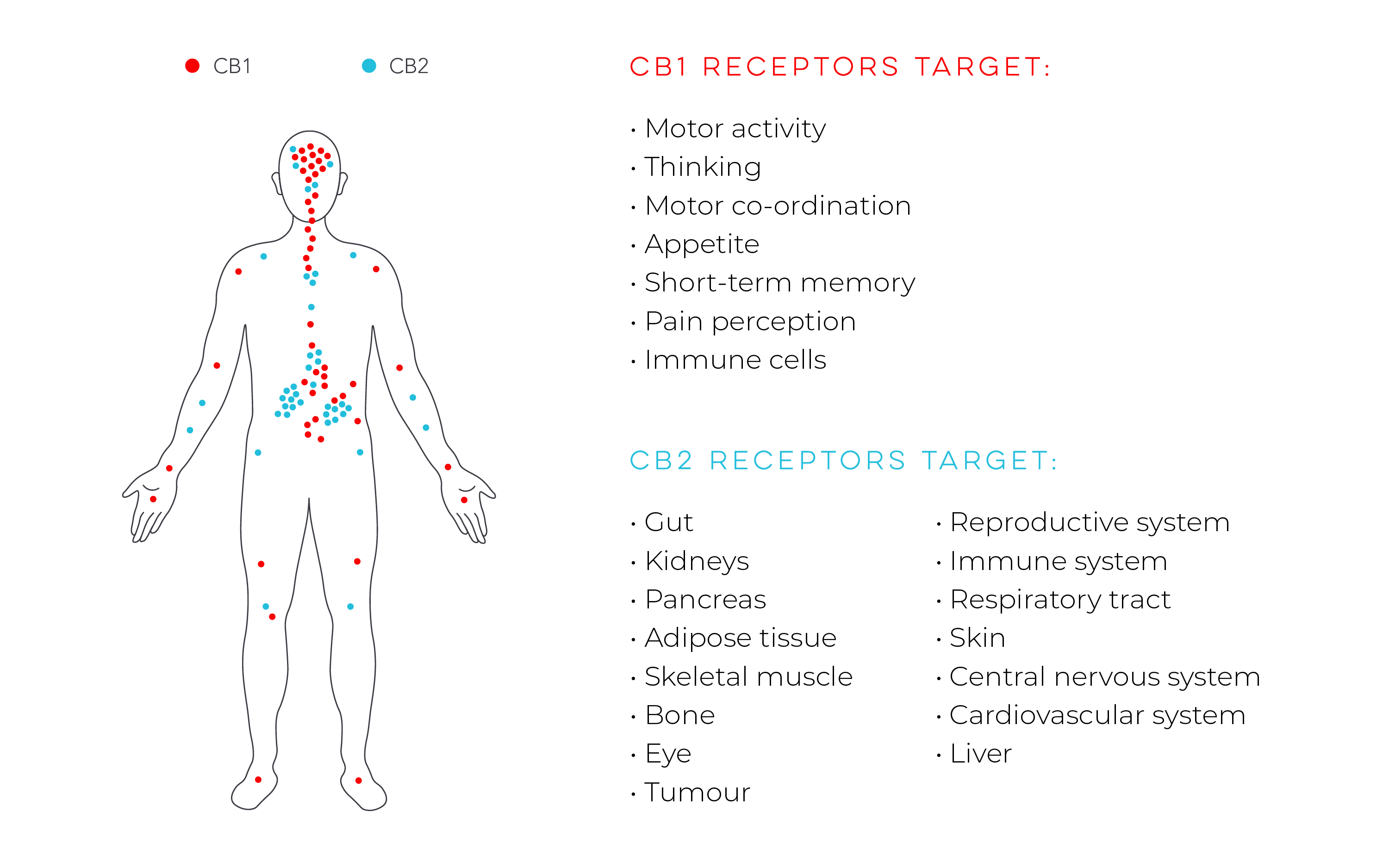 Side effects of CBD and THC
Just like any prescription medication, patients can experience side effects with medical cannabis use. The Therapeutic Goods Administration Australia (TGA) states that the known side effects of medical cannabis treatment for both CBD and THC products include [15]:
fatigue and sedation
vertigo
nausea and vomiting
fever
decreased or increased appetite
dry mouth
diarrhoea
Other associated side effects listed by the TGA for THC in particular include convulsions, feeling high or feeling dissatisfied, depression, confusion, hallucinations, paranoid delusions, psychosis and cognitive distortion.
According to a clinical study, elevated liver enzymes were reported in 5-20% of patients treated with CBD medicine. [16] Although long term liver damage is commonly not associated with CBD use, it's important for you to track your patient's experience and any elevated liver enzymes while taking cannabis medicine.
What are the laws for THC and CBD in Australia?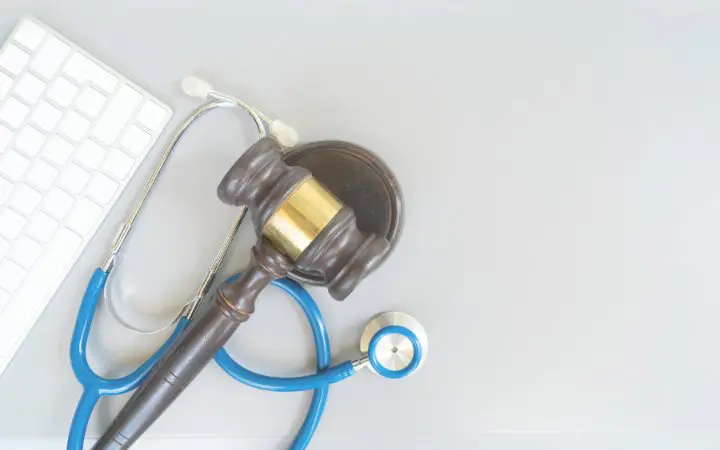 In Australia, medical cannabis is still deemed an unapproved medicine that can only be accessed with a prescription from a registered medical practitioner. If you determine that medical cannabis is clinically suitable for your patient, you will first need to apply to the TGA for approval through the SAS or Authorised Prescriber scheme.
If your patient is eligible for medical cannabis treatment, you can then prescribe them a particular product, which will typically be either a Schedule 4 or Schedule 8 drug.
The drug schedule each cannabis product sits under is dependent on the THC and CBD content in each product.
Schedule 8 cannabis product: When total THC content exceeds 2%
Schedule 4 cannabis product: When the THC content is below 2%
The TGA recently announced a streamlined process for medicinal cannabis applications where submissions for unapproved medical cannabis products can be made by active ingredient under a category based on cannabinoid content, instead of by its trade name.
When prescribing medical cannabis products, it's important that patients are aware of their state legalities surrounding cannabis use, particularly when driving.
In Australia, it's illegal to drive with any THC in your system. As THC is the main psychoactive compound that can cause impairment when driving, if patients have THC in their medication, they may test positive on a roadside drug test. For more information surrounding this topic, read our blog on THC and driving in Australia. While CBD alone does not commonly cause impairment, it's still important for your patients to understand the legislations in their state for driving while taking CBD medicine. For more information, read our blog on CBD and driving in Australia.
Prescribing doctors should ensure that any of their patients taking medical cannabis are aware that their medical prescription or TGA approval is not a valid defence against prosecution under Australian laws.
Before prescribing medical cannabis to an eligible patient, understanding the main differences between CBD and THC is a key learning that doctors should be aware of so they can confidently consult with their patients.
References:
racgp.org.au/ajgp/2021/october/medicinal-cannabis
sydney.edu.au/lambert/how-to-get-medicinal-cannabis/what-products-are-available.html
pubmed.ncbi.nlm.nih.gov/28120232/
ncbi.nlm.nih.gov/pmc/articles/PMC5877694/
racgp.org.au/ajgp/2021/june/medical-cannabis-and-driving
tga.gov.au/apm-summary/epidyolex
frontiersin.org/articles/10.3389/fphar.2018.01259/full
frontiersin.org/articles/10.3389/fphar.2018.01259/full
racgp.org.au/ajgp/2021/june/medical-cannabis-and-driving
onlinelibrary.wiley.com/doi/10.1111/j.1365-2826.2008.01671.x
frontiersin.org/articles/10.3389/fncel.2016.00294/full
frontiersin.org/articles/10.3389/fncel.2016.00294/full
webmd.com/pain-management/cbd-thc-difference
healthline.com/health/endocannabinoid-system
tga.gov.au/publication/guidance-use-medicinal-cannabis-australia-patient-information
ncbi.nlm.nih.gov/pmc/articles/PMC6539990/
Disclaimer:
The contents in this article do not constitute legal advice, are not intended to be a substitute for legal advice and should not be relied upon as such. You should seek legal advice or other professional advice in relation to any matters you or your organisation may have. Information in this article was correct at time of publishing but please check your own state regulations for updates. 
CanView does not endorse the use of medicinal cannabis without lawful prescription. Just like any medicine, medicinal cannabis may have both positive and negative side effects on the user and should only be prescribed to patients by a health professional with the authority and expertise to do so. The information provided by CanView is for informational and educational purposes and is of a general nature. Patients considering medical cannabis are advised to speak to their general practitioner first to see if it's a suitable therapy.