Back to blog

Australia's medical cannabis market is growing at rapid rate, with more doctors prescribing, pharmacists dispensing and patients being approved to access this medicine every year. As the market grows, so does the number of doctors and pharmacists using BHC's CanView – Australia's leading platform for prescribing and dispensing medical cannabis.
To celebrate the CanView platform being live for over two years, we've highlighted some of the key industry statistics from the Therapeutic Goods Administration's (TGA) data dashboard.
Patient numbers are growing
The number of patients in Australia who are taking medicinal cannabis is growing every year. In fact, patient applications through the SAS-B pathway jumped by 17% from the first half of 2021 to the same period in 2022.
The total number of applications in the first half of 2022 reached 60,289, compared to 51,148 in the corresponding period in 2021.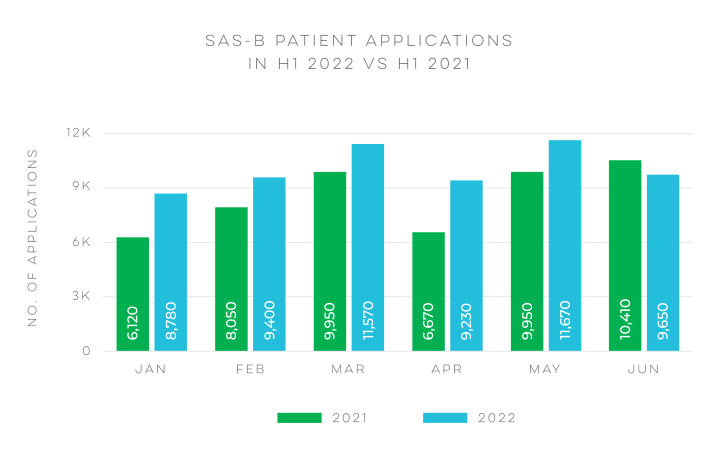 To date, there have been 268,986 SAS-B applications for medical cannabis. This number is only expected to grow as more doctors become familiar with cannabis medicine and begin prescribing this therapy to eligible patients.
More doctors prescribing medical cannabis
As the Therapeutic Goods Administration (TGA) improved the application process for doctors in November 2021 with changes to the access framework, more doctors are now becoming medical cannabis prescribers.
There are now over 4300 Special Access Scheme Category B (SAS-B) prescribers and around 1417 Authorised Prescribers for 'unapproved' medicinal cannabis in Australia, as of June 30, 2022. [1] The number of Authorised Prescribers took a huge leap this year with more than 1154 doctors prescribing through this pathway at the same time in 2021.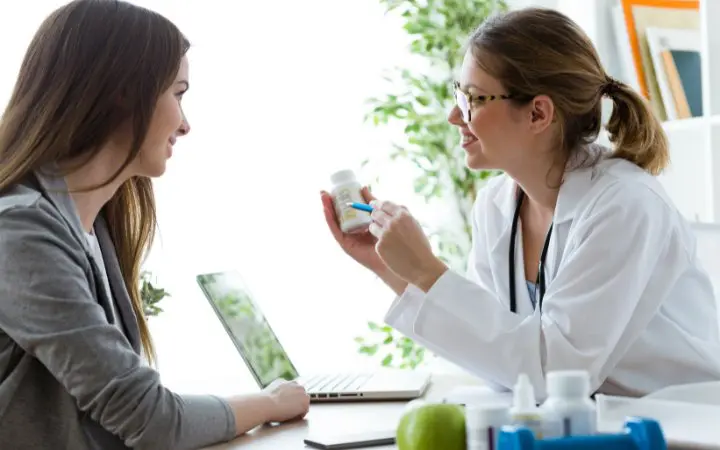 An overview of medical cannabis statistics in Australia
To give you an idea of the patient demographics, indications and most common dosage forms being prescribed, we've put together some key stats from the SAS-B applications for medical cannabis below.
Indications/Conditions
The top three conditions that medical cannabis is prescribed for are:
Chronic pain = 150,920 applications
Anxiety = 58,780 applications
Sleep disorders = 9,350 applications
Patient Ages
Medical cannabis is most commonly prescribed to patients aged between 18-44, with over 133,800 applications received through the SAS-B pathway for patients in this age bracket.
Patients aged between 45 and 64 are also commonly prescribed this medicine through the SAS-B pathway, with over 82,000 applications received to date.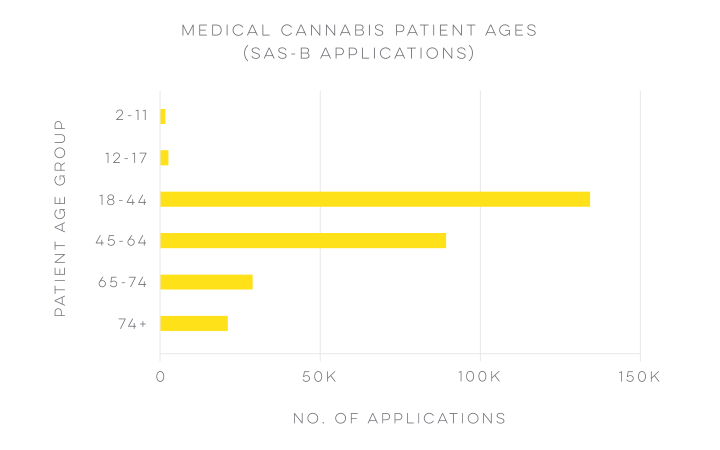 Schedule 8 vs Schedule 4
Out of the 268,986 total SAS-B applications received for medical cannabis, 22% (59,251) of them were for Schedule 4 medicines and 77% (208,591) were for Schedule 8 medicines.
With Schedule 4 low-dose CBD products expected become available over-the-counter at pharmacists later in 2022, the number of patients accessing this medicine is expected to increase.
Prescriber Location
According to the TGA data on SAS-B applications, the top prescribing location in Australia is Queensland, with over 52% of the total applications in the country received from this state alone.
To date, over 140,700 SAS-B applications for medical cannabis have been made with the prescriber consulting location marked as Queensland. Victoria and New South Wales came in at the second and third most common prescriber locations, with both states receiving over 50,000 applications to date.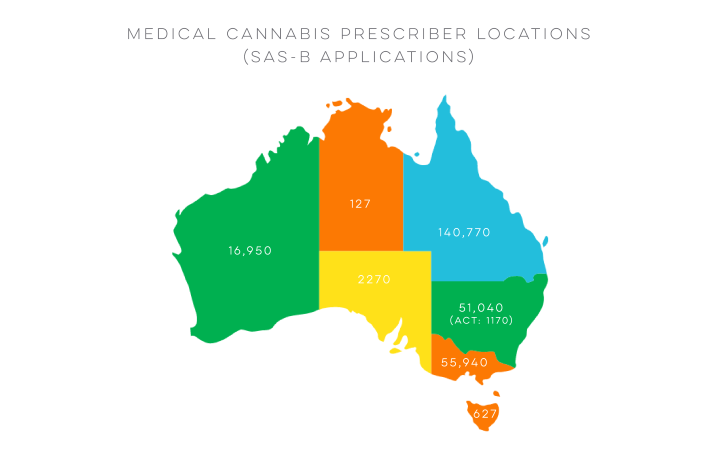 Dosage Form
The most commonly prescribed dosage form for medical cannabis applications submitted through the SAS-B pathway is Oral Liquid, with over 83,300 applications received.
Herb, dried is the next most commonly prescribed dosage form with over 54,800 applications, followed by Oil which has received over 44,700 applications.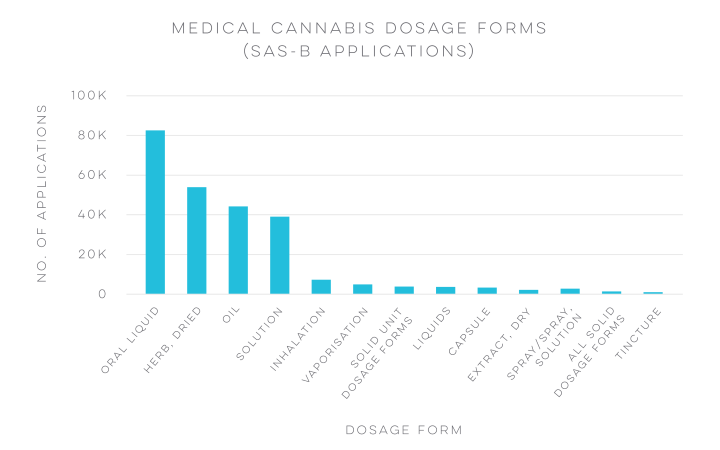 Please note, the above data was retrieved on 21/07/22. To see up-to-date stats on the growing number of SAS-B applications received for medical cannabis, you can view the TGA's Medicinal Cannabis Access Data Dashboard. A new dashboard with data specific to the Authorised Prescriber access pathway is expected to be released by the TGA in August this year.
Celebrating two years of BHC's CanView
The CanView platform, brought to you by wholesale distributor Burleigh Heads Cannabis (BHC), has now been live for two years.
As Australia's leading platform for health professionals to access medicinal cannabis products, BHC's CanView continues growing year-on-year, with record numbers of doctors and pharmacists now registered.
Number of pharmacists registered: 2830+
Number of doctors registered: 730+
Number of patients registered: 6080+
Number of products available: 150+
Number of suppliers available: 27+
By streamlining the medical cannabis dispensing and prescribing process, BHC's CanView provides pharmacists with a platform where they can order products and fill scripts for multiple patients in one place. Over the years, the platform has continued to be upgraded with new features to improve the medical cannabis ordering experience for the growing number of health professionals prescribing and ordering through CanView.
An exciting future for CanView
In 2022, the CanView platform will undergo exciting new changes which will further streamline the dispensing and prescribing process for pharmacists and doctors as the medical cannabis market continues growing. By bringing prescribers, pharmacists and patients together in one place, BHC's CanView will improve the process even further with increased functionality and further simplification of the ordering process.
Here's a sneak peak of what you can expect with CanView 2.0:
Further simplification of the ordering process
Auto-matching functionality
Integrations with dispensing software
Improved order accuracy with document auto-recognition
Increased dispatch efficiencies
Electronic prescription capabilities
Automation of MB/MAP storage
Improved visibility of stock levels
If you're a medical practitioner or pharmacist who is not already registered to BHC's CanView, register today to sign up to our mailing list and be notified of the new changes.
References:
https://www.cannabiz.com.au/sas-b-approvals-up-18-in-h1-2022/
https://www.tga.gov.au/medicinal-cannabis-special-access-scheme-category-b-data
Disclaimer:
The contents in this article do not constitute legal advice, are not intended to be a substitute for legal advice and should not be relied upon as such. You should seek legal advice or other professional advice in relation to any matters you or your organisation may have. Information in this article was correct at time of publishing but please check your own state regulations for updates. 
CanView does not endorse the use of medicinal cannabis without lawful prescription. Just like any medicine, medicinal cannabis may have both positive and negative side effects on the user and should only be prescribed to patients by a health professional with the authority and expertise to do so. The information provided by CanView is for informational and educational purposes and is of a general nature. Patients considering medical cannabis are advised to speak to their general practitioner first to see if it's a suitable therapy.