Back to blog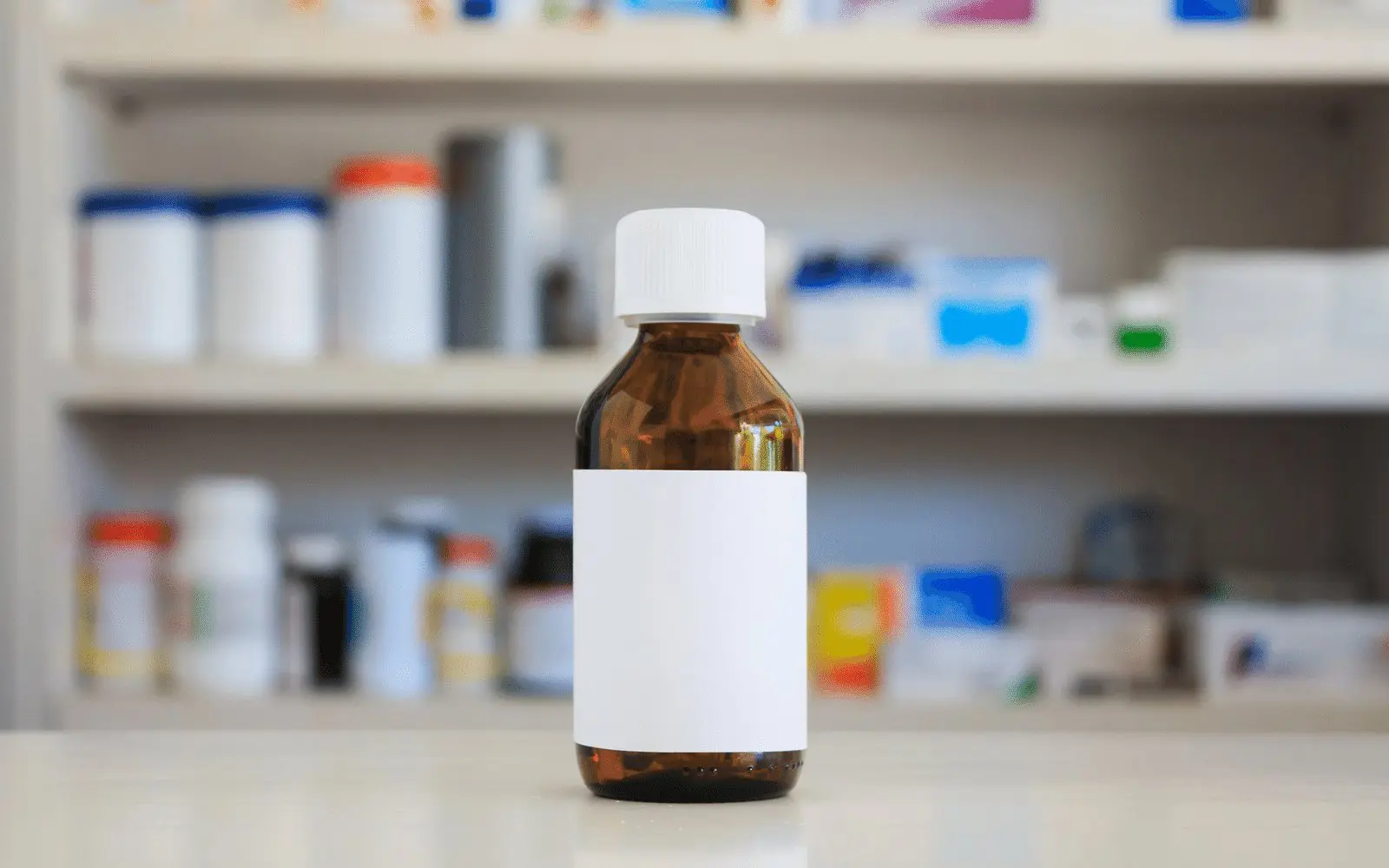 Just like any other prescription medication in Australia, understanding the information on a medical cannabis product label is essential for both doctors and pharmacists to prescribe and dispense this medicine.
Labels on medical products provide consumers with the necessary information on what the product is, what it is used for, how to use it, how to store it and any hazards associated with it.
With more medicinal cannabis products hitting the Australian market and more doctors prescribing this therapy to their patients every year, understanding how to read a cannabis label is important.
If you're a health professional in Australia, read this blog to understand the key elements of cannabis supplier and dispensing labels and what you need to look for on these products.
What to look for on a cannabis supplier label?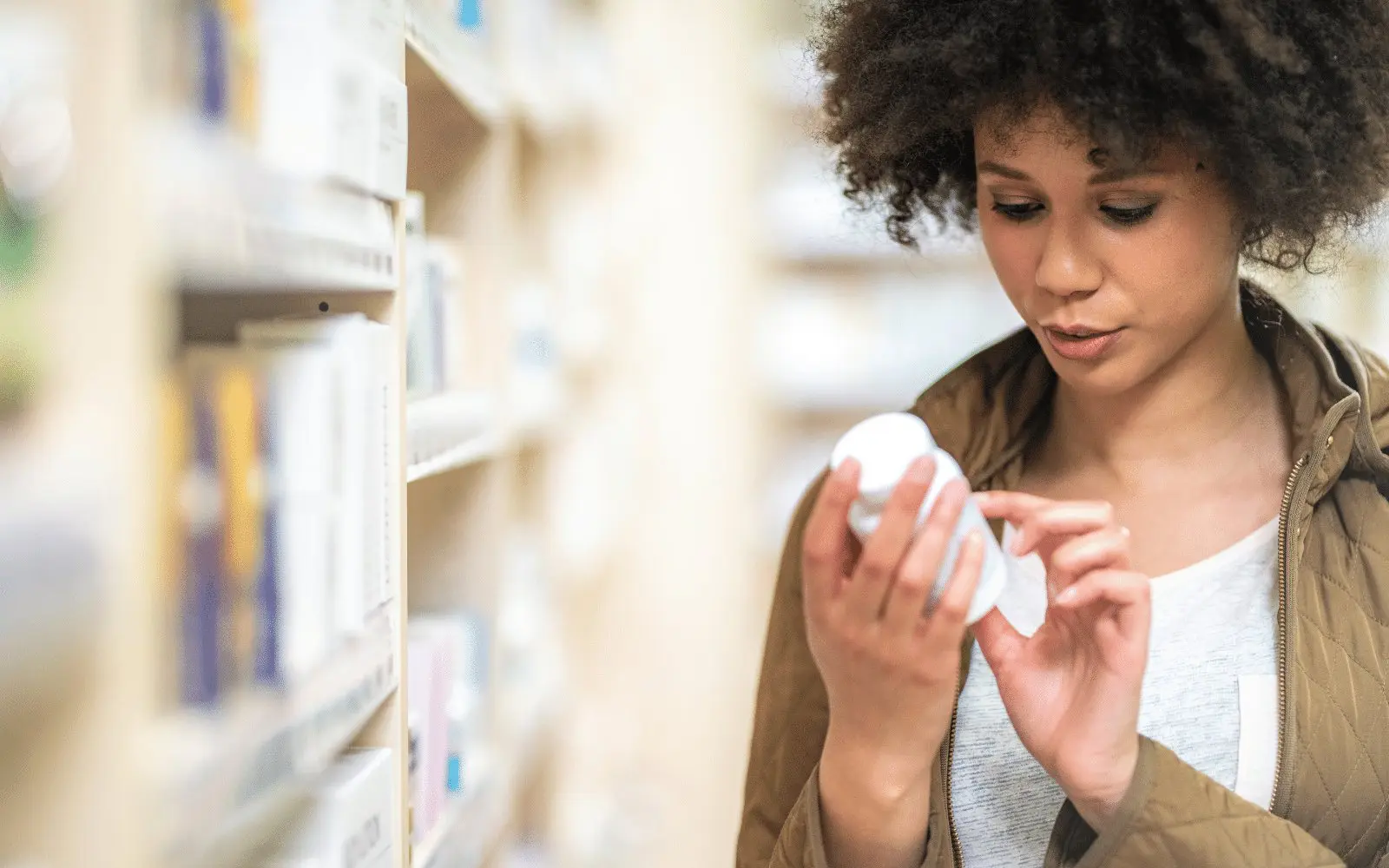 A cannabis supplier label refers to the packaging label the product comes in. These labels are manufactured by the product supplier and are placed on the products before they arrive at the pharmacy. There are a few elements of a medical cannabis product label that are important for patients, pharmacists and doctors to recognise, including:
Product & Supplier Information
Every medicinal cannabis product is required to have a product name and the batch number on the label. This will help pharmacists and doctors easily distinguish between each product.
Medicinal cannabis product labels must also include information about the manufacturer/supplier to signify which company manufactured the product.
This information includes:
Supplier name and contact information
Product Dosage Form
The dosage form refers to the physical form the product comes in (e.g. oral liquid, dried herb etc.). As cannabis is a highly personalised medicine, different product formulations can be suitable for eligible patients with different circumstances.
The main dosage forms medical cannabis is manufactured in include:
Capsule
Herb (Dried)
Inhalation Pressurised (Metered Dose Preparation)
Oil
Oral Liquid
Pastille
Tablet (Chewable)
Topical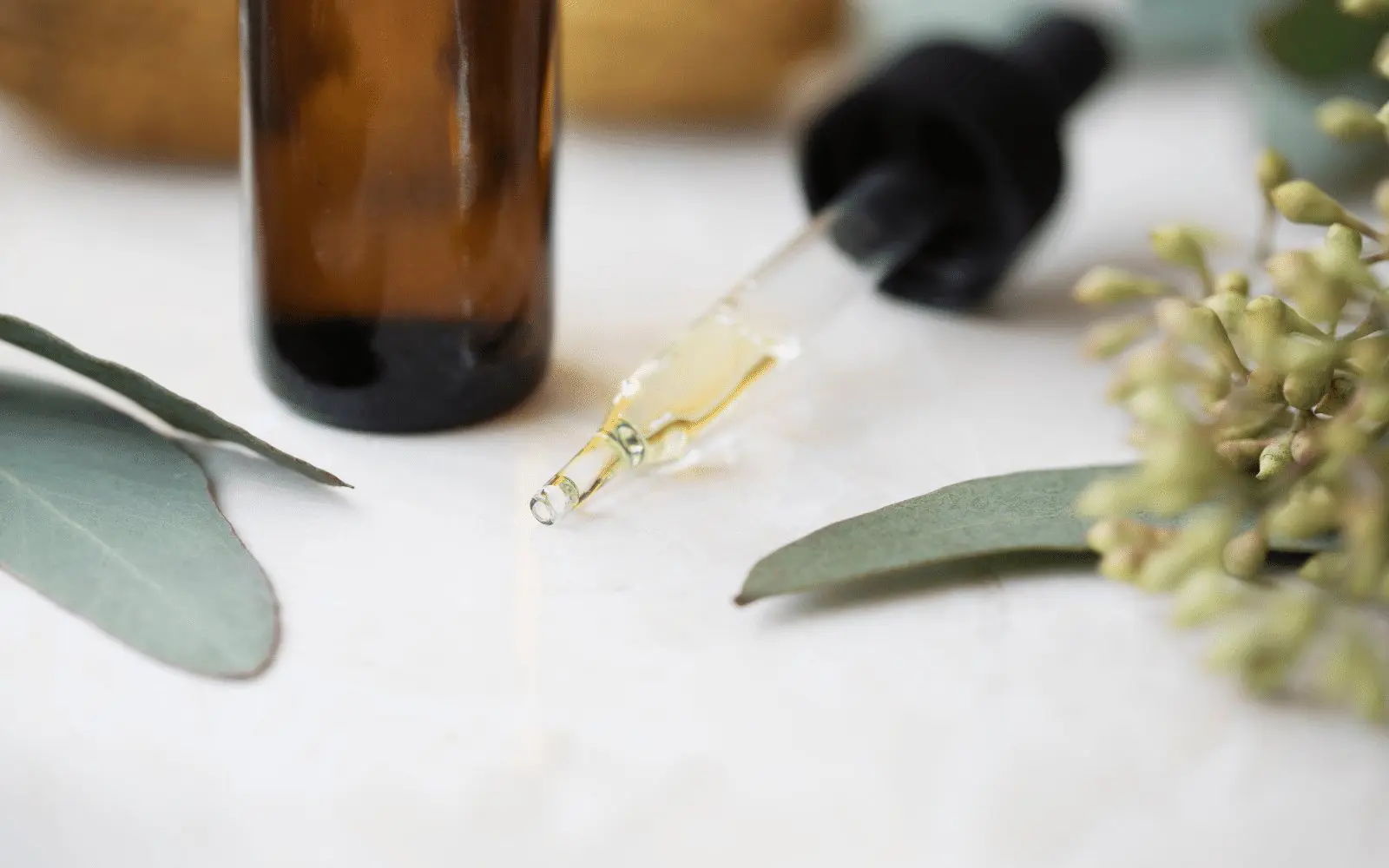 Total Cannabinoid Content
One of the most important things to recognise on a cannabis label is the cannabinoid content, otherwise known as the active ingredients.
Cannabidiol (CBD) and Delta-9-tetrahydrocannabinol (THC) are the two primary cannabinoids present in the cannabis plant, which are responsible for the main effects cannabis produces in the body.
The total content of these cannabinoids must be clearly displayed on the label. Here's an example of how it can be displayed on labels:
25mg/ml CBD (total Cannabidiol)
<25mg/ml THC (total Delta-9-tetrahydrocannabinol)
What is the THC : CBD ratio?
The THC:CBD ratio is a critical element of a medicinal cannabis label that indicates the amount of THC compared to the amount of CBD in each dose.
As cannabis can produce different effects depending on the different levels of active ingredients, doctors will prescribe products with various ratios depending on what's most suitable for each patient's chronic condition.
To give you a better idea, a ratio of 1:1 would mean there is the same amount of THC and CBD in each dose. Whereas a THC:CBD ratio of 20:1 would mean there is 20 times more THC in each dose, compared to CBD. Some labels may also include the THC:CBD content per container (e.g. 1000MG : 250MG).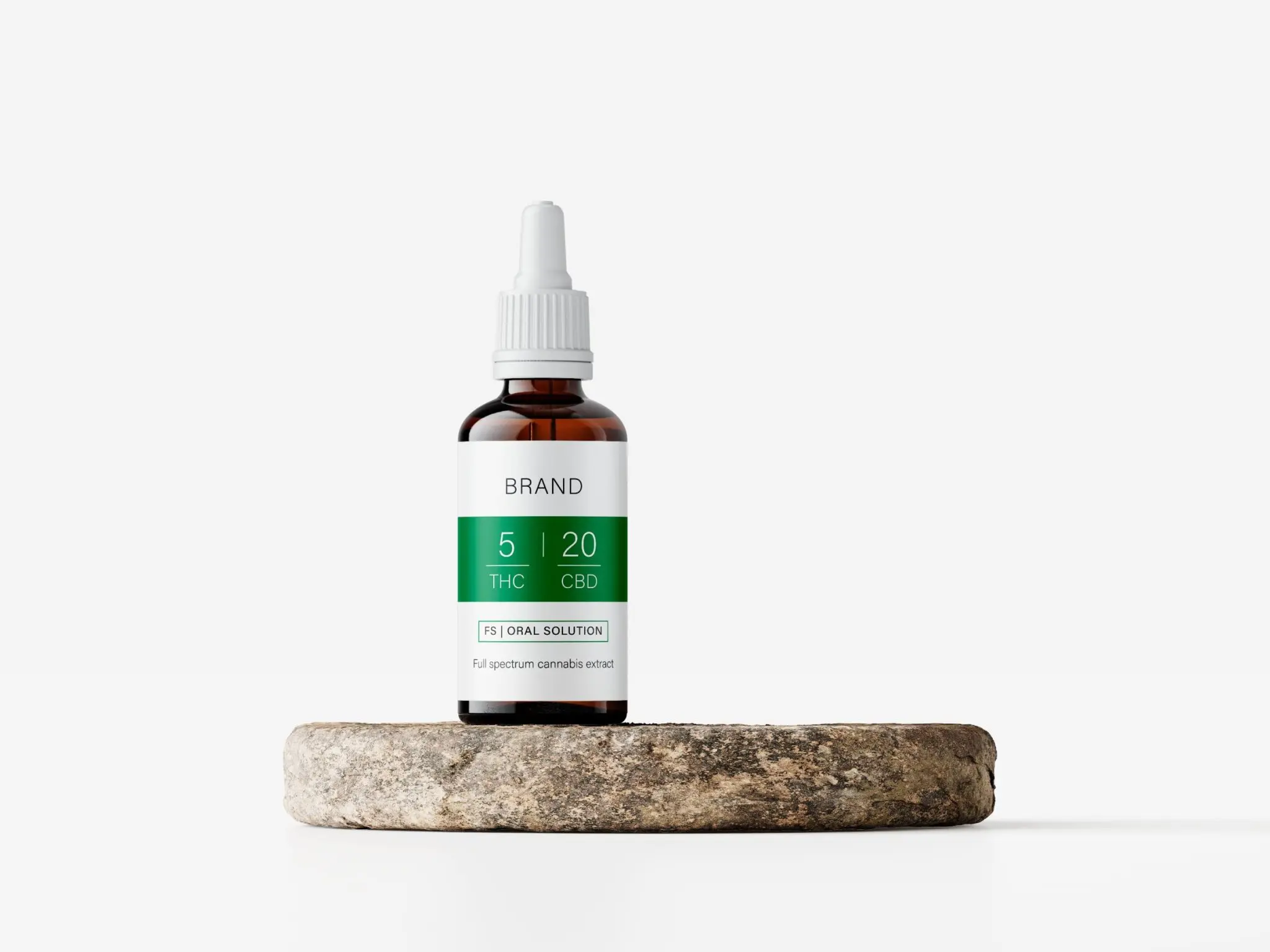 In the example above, the ratio is 5:20, which equates to 5mg/ml of THC and 20mg/ml of CBD in the product.
Generally, the concentration should note the dominant cannabinoid of THC first and CBD to follow (THC : CBD). If you are unsure, we recommend checking with the wholesaler or prescribing doctor to ensure the label information accurately matches what has been prescribed.
Product Weight
Usually displayed in either grams or millilitres, the product's total weight must be visible on the product. This can usually be found in the product name (e.g. Brand name | THC : CBD Ratio | Weight).
As cannabis comes in a range of different dosage forms such as flower, oil or oral liquid, the total weight can be displayed differently, depending on each product. Here are some examples:
Milligrams of cannabinoid per gram or mg/g or mg/unit (flower, soft gels)
Milligrams of cannabinoid per millilitre or mg/ml (cannabis oils)
Milligrams or mg/unit of cannabinoid (edibles)
Percentage of cannabinoid in relation to total weight of product (flower)
Other Information
Medicinal cannabis labels contain a lot of the standard elements of any other prescription product such as packing and expiry dates, storage information and any relevant health warnings.
What to look for on a cannabis dispensing label?
Once a cannabis prescription is ready to be filled, the dispensing pharmacy will place a prescription label on the product. This label must include all the standard details included on a dispensing label for any pharmaceutical product.
The following information must be included on any dispensing label:
Patient's name
Name of drug
Dosing instructions
Prescribing doctor
Prescription number
Dosing information
Dispensing pharmacy
Prescribing doctor
Warning label: Keep out of reach of children
When applying the dispensing label to the product, pharmacists must ensure it is not covering the batch number or expiry date.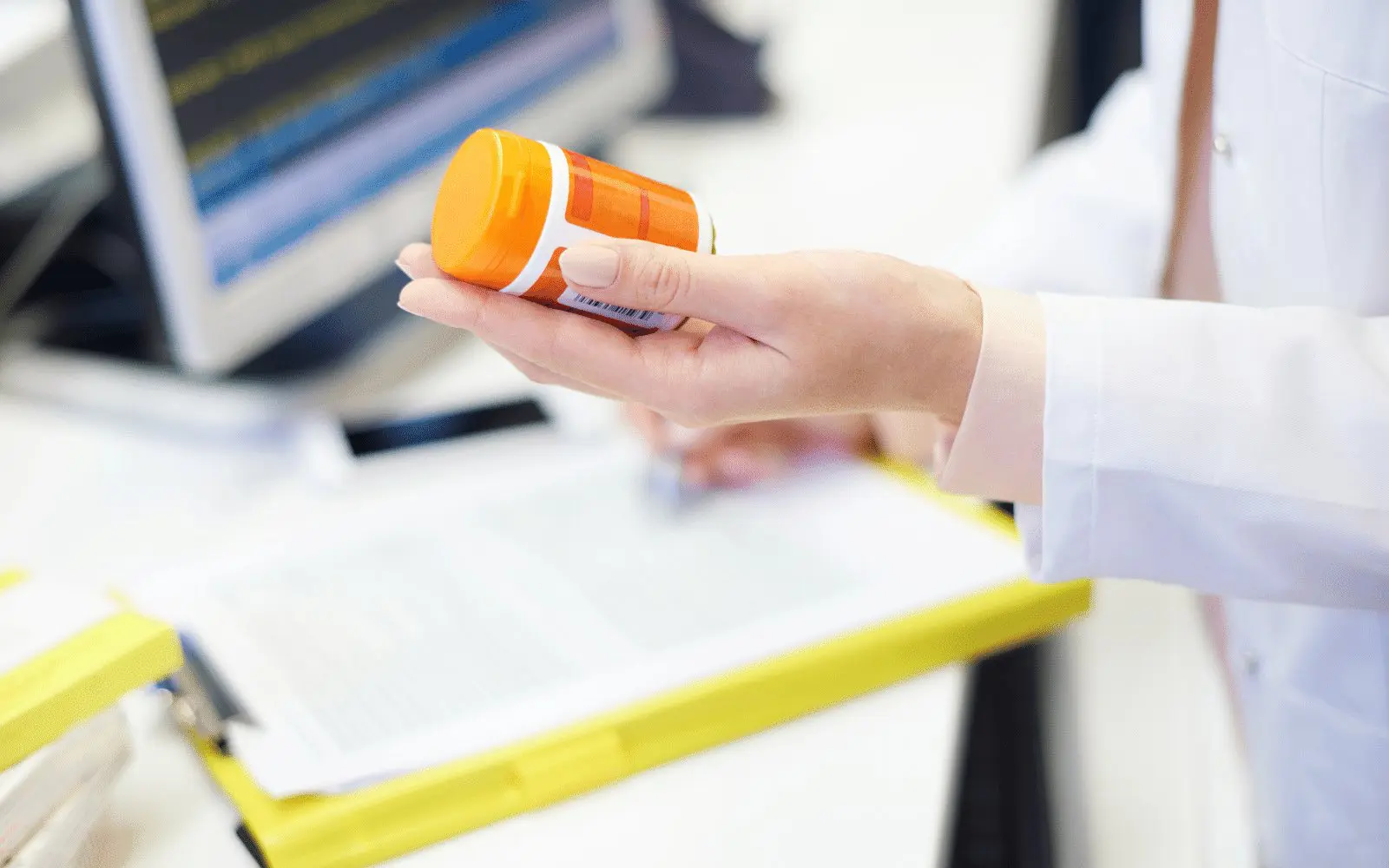 For a pharmacist to dispense a controlled substance such as medicinal cannabis, the prescription must include specific information to be considered valid:
Date of issue
Patient's name and address
Patient's date of birth
Clinician name, address and DEA number
Drug name
Drug strength
Dosage form
Quantity prescribed
Directions for use
Number of refills
Signature of prescriber
Are you a doctor or pharmacist interested in learning more about medicinal cannabis?
The CanView Confident Prescriber Course is a free course available for Australian medical professionals to learn about cannabis medicine. Discover how the endocannabinoid system works, understand cannabis administration, indications, dosage guidelines, government regulations and more.
Enrol in Medical Cannabis Training Course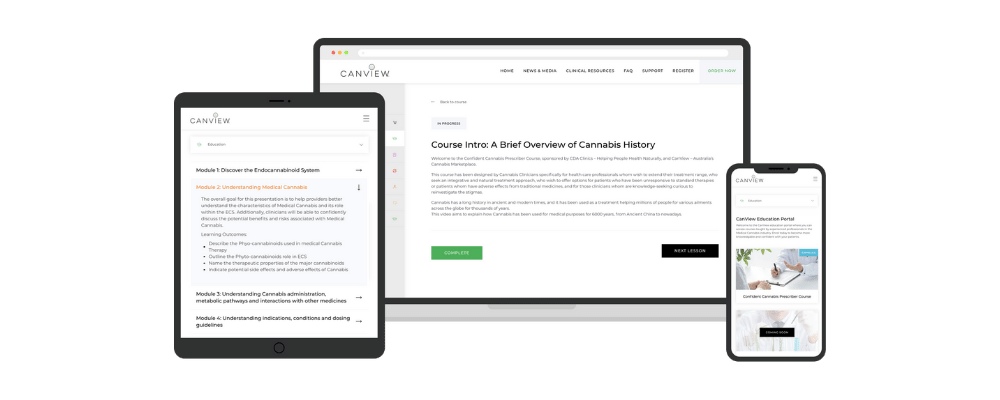 References:
Disclaimer:
The contents in this article do not constitute legal advice, are not intended to be a substitute for legal advice and should not be relied upon as such. You should seek legal advice or other professional advice in relation to any matters you or your organisation may have. Information in this article was correct at time of publishing but please check your own state regulations for updates.
CanView does not endorse the use of medicinal cannabis without lawful prescription. Just like any medicine, medicinal cannabis may have both positive and negative side effects on the user and should only be prescribed to patients by a health professional with the authority and expertise to do so. The information provided by CanView is for informational and educational purposes and is of a general nature. Patients considering medical cannabis are advised to speak to their general practitioner first to see if it's a suitable therapy.